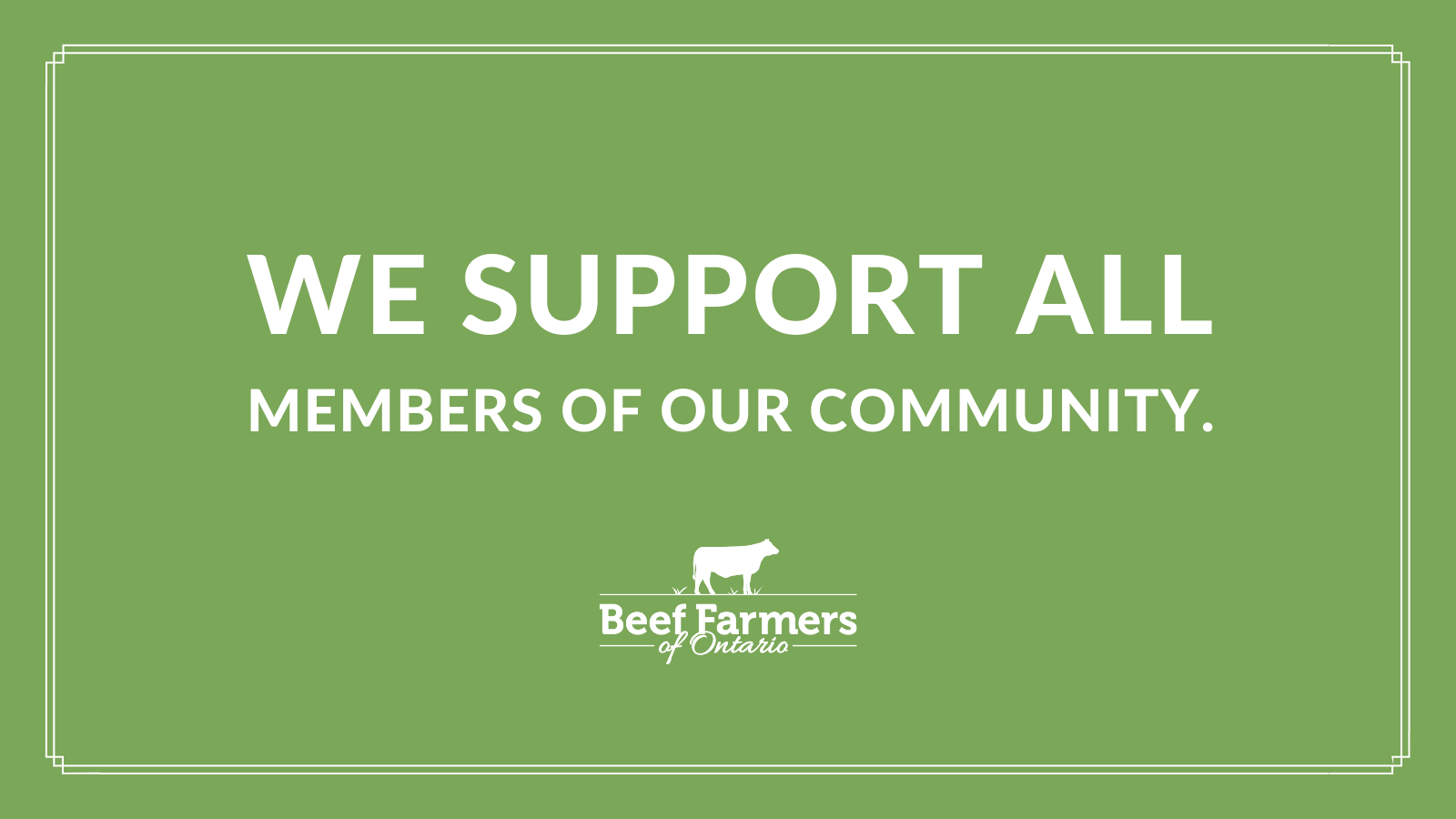 We are prioritizing our efforts to turn our words into action. Recognizing we, as an organization and industry, are starting at the beginning of our journey, our first tangible actions have been to chosen in effort to build a solid understanding of diversity, equity and inclusion, and ensure we have a system in place to maintain accountability.
Learning
The board recognized early on that DEI was new to many of the directors, staff and members. In order to ensure actions were not taken haphazardly or inadvertently harmful, a solid foundational understanding of DEI would be required. BFO partnered with a company called Bloom to provide a comprehensive learning experience that started from the beginning. In the spirit of sharing the experience wider, we invited representatives from local county/district associations, as well as Ontario Federation of Agriculture, Canadian Cattlemen's Association and Ontario Sheep Farmers to join the board and staff. Over the course of eight weeks, 65 participants engaged in facilitated sessions aimed at building a solid foundational knowledge of DEI, anti-racism and becoming actively anti-racist and restorative healing to digest the learnings. 
To read more about our initial learning experience, please click here.
In 2022, the board and staff continued to seek out new learning opportunities. Several members participated in two very informative and well-run Indigenous Awareness and Indigenous Relations workshops. Additionally, as part of our commitment to Truth and Reconciliation, the board and staff participated in a virtual tour and debrief discussion of the former Mohawk Institute Residential School. It was very difficult to watch the tour  and hear the first-hand accounts of the survivors. While the truth is horrific to hear, it is essential to be able to reconcile and find paths forward.
Accountability
In effort to ensure we remain accountable to our commitments as we move forward with our DEI work, the board made the decision to install a permanent Diversity, Equity and Inclusion Committee that consists of three elected directors, the current president and a minimum of two staff members. In the spirit of inclusivity, the committee is an open committee. While the above are the minimum requirements of the committee structure, any board or staff member is welcome to join the committee at any time. The committee is tasked with keeping the organization accountable, as well as ensuring the work continues to move forward and addressing any DEI-related issues and questions as they arise.
Activities
In addition to training and accountability, BFO has taken and/or been a part of a number of different activities:
Participated in several meetings and speaking engagements with other commodity and ag sector organizations to keep the conversation moving forward in the broader industry. We met with groups including 4-H Canada, Ontario Soil and Crop Improvement Association, and Chicken Farmers of Canada in 2022.
Rebranded what was Cattlemen's College to Cattle Academy
Made a $2,500 donation to the Gord Downie and Chanie Wenjack Fund as part of our recognition of National Day for Truth & Reconciliation and our own organizational commitment to reconciliation. The Gord Downie & Chanie Wenjack Fund aims to build cultural understanding and create a path toward reconciliation between Indigenous and non-Indigenous peoples. Their goal is to improve the lives of Indigenous people by building awareness, education, and connections between all peoples in Canada.
Ensured DEI was top of mind when selecting influencers, spokespeople and companies to partner with for our consumer engagement and PR work. In 2022, well over 50 per cent of the folks and businesses we worked with are BIPOC, women, members of the LGBTQ+2S community, and BIPOC- and or women-owned businesses (or both!).
Continued to strongly support community organizations like Feed Ontario, AgScape and 4-H that provide important service, support, education and programing to diverse communities all across the province.
Further increased support to AgScape to specifically support their efforts to translate and deliver their resources and programming in French language and French-Immersion schools.
Increased advocacy for mental health resources and support services for farmers. Find more mental health information and resources here.
Participated in a DEI-focused project through the Canadian Agriculture Human Resource Council.
Participated in a media interview with ag advocate Ryan Goodman during Pride Month.
Made improvements to the BFO office building to increase accessibility.
Created a policy and best practices for addressing inappropriate comments made during BFO meetings and events.
Collaborated on a joint statement recognizing the first National Day for Truth and Reconciliation. We were pleased to have 14 commodity and ag sector organizations sign on to the statement. Read the statement here.
Participated in DEI focused initiatives and projects through Canadian Centre for Food Integrity and Canadian Agriculture Human Resource Council. Watch for a new Community of Practice to be launched in the near future. This will be a space for folks to gather for learning opportunities, information, resources and discussion.
Delivered presentations to other organizations on how and why we started our work.
We continue to actively look at our organization and current activities to see where we can do better and how we can weave education and advocacy around diversity, equity and inclusion into existing activities and programing. As we continue to listen and learn, our commitments and actions will continue to develop over time as we work to evolve the culture within the sector to be more welcoming to and supportive of all members of our communities. If you have questions or if you have thoughts or ideas on actions to consider or areas for improvement, please connect with us. We will continue to update as we continue to learn and evolve our actions.